Board of Directors
Our Board has 12-14 members who meet every month on the third Wednesday of the month from September to June. Additionally, Board members serve on at least one of 6 Board committees: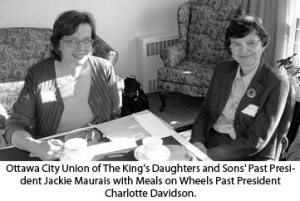 Executive and Human Resources
Finance
Supplier Liaison
Fundraising and Public Relations
French Language Services
Nominating
Board of Directors:
Stuart McLeod, President
Lisa Wilson, Vice-President
William Logan, Secretary
Sheryl Urie, Treasurer
Walter Davidson, Past President
Amy-Lynn Aubertin, Director
Suzanne Allyson, Director
William Houston, Director
Phoebe McLelland, Director
Maroun Rehayem, Director
Jonathan Rybicki, Director
Karen Toren, Director
Did you know?
Meals on Wheels moved to its present location, at 670 Albert Street, in October 2009. From 1987 to 2009, the office was located on Bronson Avenue.