Board of Directors
Our Board has 12-14 members who meet every month on the third Wednesday of the month from September to June. Additionally, Board members serve on at least one of 6 Board committees: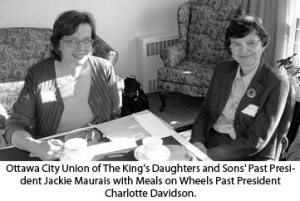 Executive and Human Resources
Finance
Supplier Liaison
Fundraising and Public Relations
French Language Services
Nominating
Board of Directors:
Stuart McLeod, President
Lisa Wilson, Vice-President
William Logan, Secretary
Sheryl Urie, Treasurer
Walter Davidson, Past President
Amy-Lynn Aubertin, Director
Suzanne Allyson, Director
William Houston, Director
Phoebe McLelland, Director
Maroun Rehayem, Director
Jonathan Rybicki, Director
Karen Toren, Director
Did you know?
During the 2019-2020 fiscal year we delivered 96,017 meals (including 10,597 meals through the Going Home and Aging in
Place programs) to 1514 clients with the help of 366 volunteers.