Become a Volunteer
COVID-19 Volunteers
As things slowly start to open back up and people begin to return to work, Meals on Wheels will experience a need for more volunteers. Some of our older volunteers may still need to refrain from volunteering and their return to delivering meals may be more gradual. Prior to this pandemic, many Meals on Wheels programs were in a critical shortage of volunteers and our Ottawa program was no different. At this time our recruitment efforts will focus on volunteer drivers only. This is a great opportunity for people who have time during the day to give back to the community. 
 We have been so grateful for how the community has stepped up in this time of crisis to make sure our essential service has been able to continue.  We are thankful to all those who are using the time, when their employment situation may have changed, to make sure our seniors and adults with disabilities are being cared for and provided nutritional support and a check in.  
---
Make a difference in your community –
Become a Meals on Wheels Volunteer!
Every year over 400 volunteers are needed to make our operation run smoothly, contributing more than 24,000 hours of service in central Ottawa.
Volunteers are the vital link in our service and add an immeasurable human value to the quality of what we do.  Our screened and trained volunteers also provide a personal contact, a safety check, as well as an interested daily visitor.
We have kitchens across the city that provide hot food for our program. Volunteers can pick up the meals close to where they live or work!
Contact us to find out where your time and talents can be invested in our agency.
What do I need to know before volunteering?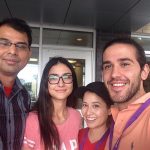 Our volunteers come from all walks of life and come from diverse backgrounds. It takes a dedicated team of over 400 screened and trained volunteers to help feed our community in Ottawa on a daily basis.
Here's how to become part of the Meals on Wheels team:
Fill out the online application 
Participate in a short interview by phone or in person with one of our Volunteer Department staff.
Attend an orientation session to learn more about the program.
Provide two references and obtain a Police Record Check for Volunteer Work with the Vulnerable Sector.
Be at least 18 years of age or be accompanied by a parent or guardian when delivering meals.
Participate in on-the-job and ongoing training.
What are the benefits of volunteering?
Flexible schedules and commitments based on your availability.
Mileage reimbursement (for drivers).
A letter of reference after 6 months of service (if requested).
The option to volunteer as a family, with friends or with co-workers. Ask us about our Corporate Delivery Program!
An invitation to our Annual Volunteer Appreciation Dinner.
A chance to meet people and make new friends!
Volunteering testimonials
"I want to and I enjoy supporting my community. It's only two hours per shift and it makes a big impact on the clients' lives. The clients are always grateful. And the simple act of delivering a meal and asking, "How are you?" might be the only interaction they get that day." – Christine J.
"For me, volunteer work gives me a purpose for my life. After spending 46 years working in health care and being a front line care giver, I needed an environment where the need to provide care to seniors could be met. Meals on Wheels volunteers are another set of eyes and ears  for the very frail and lonely, and  I am glad that I am a team member." Gurdeep D. 
"Everyone that I deliver to enjoys our service and loves the meals… and our smiles! The organization is amazing and it runs very very smoothly considering the amount of people we deliver to on a daily basis" – MOW volunteer
Did you know?
We have delivered almost 4.5 million meals since our founding in 1968.