Sponsorship Opportunities
There are many ways you can invest in Meals on Wheels. From sponsoring our events, volunteering as an individual or as a group, supporting a senior in financial need, adopting a route or lending us your expertise, you can help us make a difference for seniors and adults with disabilities in Ottawa.
Why partner with Meals on Wheels?
Founded in 1968 by the Ottawa City Union of The International Order of The King's Daughters and Sons, we have grown from our grass roots beginnings where during the first week of operation 29 meals were served to 15 people.  In 2017 over 114,000 meals where served to over 1600 clients will the help of more than 400 volunteers.
We are the largest Meals on Wheels program in the Champlain region and are a dedicated group of staff, board, delivery and office volunteers with a well established reputation. Read more…
Click on one of the options below to learn more about how you can partner with Meals on Wheels.
Meals on Wheels provides Christmas meals to over 100 clients ever year. As many are homebound and live alone, it is a service we are proud to offer. This year, because of COVID, delivering meals on Christmas Day will be even more special as many may not be around family or loved ones. We are looking for sponsors to help support our Christmas meal deliveries.
This year, our goal is $2000 which will help cover the cost of meals plus a special gift for each client. Can you help? Read more…
Meals on Wheels Ottawa has partnered with GiveShop, a new and innovative, app-based online marketplace where users can donate and buy gently used items with all proceeds going to charitable causes like ours! It's in-kind giving and charity-friendly shopping all in one. Read more…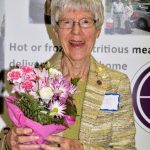 Due to the current pandemic, we cannot gather in person to thank and show appreciation for our volunteers. However, an event such as our usual much loved celebration dinner is just one way to thank volunteers. During these unprecedented times, we are looking for new and innovative ways to show our appreciation to our dedicated volunteers. Read more…
Did you know?
En 2017-2018, la Popote roulante a été ravie 65 949 repas chauds, 29 723 repas congelés Apetito, 6 449 repas congelés de TimeSaver, de même que 5 686 repas chauds et 6 600 repas congelés livrés dans le cadre des programmes Vieillir chez soi et Retour à la maison pour un total de 114 407 repas livrés à 1 672 clients.