Sponsorship Opportunities
There are many ways you can invest in Meals on Wheels. From sponsoring our events, volunteering as an individual or as a group, supporting a senior in financial need, adopting a route or lending us your expertise, you can help us make a difference for seniors and adults with disabilities in Ottawa.
Why partner with Meals on Wheels?
Founded in 1968 by the Ottawa City Union of The International Order of The King's Daughters and Sons, we have grown from our grass roots beginnings where during the first week of operation 29 meals were served to 15 people.  In 2017 over 114,000 meals where served to over 1600 clients will the help of more than 400 volunteers.
We are the largest Meals on Wheels program in the Champlain region and are a dedicated group of staff, board, delivery and office volunteers with a well established reputation. Read more…
Click on one of the options below to learn more about how you can partner with Meals on Wheels.
Meals on Wheels Ottawa has partnered with GiveShop, a new and innovative, app-based online marketplace where users can donate and buy gently used items with all proceeds going to charitable causes like ours! It's in-kind giving and charity-friendly shopping all in one. Read more…
Every year on December 25th Meals on Wheels staff members and volunteers join Moe Atallah and his team at the Newport Restaurant to cook, pack and deliver a turkey dinner with all the fixings, including gifts.  Approximately 100 seniors and adults with disabilities benefit from this special delivery. Many recipients of this special delivery are clients who regularly receive meals with our program and also need our support on Christmas Day. Read more…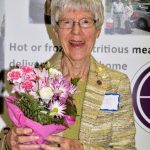 Every year it takes about 500 volunteers to accomplish our mission. With the tireless and generous contributions of our drivers, servers, board members and office volunteers Meals on Wheels is able to deliver over 114,000 meals annually to over 1600 clients.
The Annual Volunteer Appreciation Reception is just one of the ways that we recognize and show our volunteers how much we value them.  The Meals on Wheels service simply would not exist without them.  They ask for so little in return for their dedication and this special evening is a fun opportunity to celebrate the good work our volunteers are doing in the community. Read more…
The Meals on Wheels vehicle can be seen out and about in Ottawa delivering meals as well as attending community events.
It's also an important resource that allows us to ensure that no client goes without as staff can get on the road to deliver at a moment's notice. Read more…
Did you know?
The first Meals on Wheels newsletter was published in 1984.