Frozen Meals
In addition to the delivery of hot meals Monday to Saturday, Meals on Wheels has frozen meal delivery. The frozen meal program has become a popular alternative or supplement to the traditional hot meal delivery. One advantage of the frozen meals is the ability to select your own menu.
Full Menu (December 2018)
TimeSaver and Apetito items have been combined onto one easy-to-read order menu. Once you are a client with us, please order by number.
What kind of meals are available?
We are pleased to offer Time Saver Foods. Call us for more information.
TimeSaver Foods frozen meals are $7.50* per entrée et $4.25* per soup.
Apetito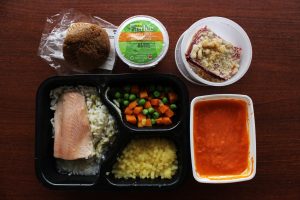 offers a tempting array of main dishes, soups and desserts, including meals suitable for vegetarians, diabetics and reduced sodium diets. In addition, there is a special diet menu offering pureed, minced, renal gluten-free and lactose free meals. Click here to see the Apetito brochure!
For nutrition information and ingredient lists of meal items, please click here. (Note: Our meals are under the tab "Individual Complete Meals".)
Apetito frozen meals are offered in two available packages :
5 main meals and a total of 5 soups or desserts for $39.95*
7 main meals for $39.95*.
It's also possible to order individual meals ($6.00), soups ($2.70), desserts ($2.70), and breakfast snacks ($2.70).*
These meals are presented in a cardboard container which can be placed in the microwave or oven. Each meal is labeled with cooking instructions as well as ingredients.
Delivery
Our service area for the delivery of frozen meals are divided in East and West sectors. The days and time of deliveries are as follows:
Friday between 9:00 a.m. and 11:00 a.m. if you live east of the Rideau Canal
Note: Orders must be submitted by 4:00 p.m.Thursday to be delivered the following week
Tuesday between 12:00 p.m. and 2:00 p.m. if you live west of the Rideau Canal
Note: Orders must be submitted by 4:00 p.m. Monday to be delivered the following week.
How do I Apply for Meals on Wheels?
If you are a new client, please call us at 613-233-2424 to register or fill out the Client Application Form.
How do I order my Meals?
By email to service@mealsonwheels-ottawa.org
By phone at 613-233-2424
When placing your order, please ensure you include:
full name
address and phone number
choice of items (the name and number from the menu)
Note: What you order one week will be delivered the following week. A package is only sent if you order one. If you are unable to call in regularly to place an order, please call the Client Coordinator at 613-233-2424 to discuss alternate arrangements.
* Fees updated June 1st, 2018 and are subject to change.
Did you know?
The first delivery of frozen meals was made on April 25th, 1991.