Meals on Wheels' impact on families
October 11, 2019
Meals on Wheels provides nutritional value to seniors and adults with disabilities in Ottawa, but it also brings peace of mind to families knowing someone is checking in on their loves ones. And if for some reason someone is not home to receive their meal, we follow up with emergency contacts which is an added bonus.
But what better way to  highlight how Meals on Wheels helps families, but to hear directly from them.
From Andrey, the son of a client who has been receiving meals for the past year: "Meals on Wheels gives us piece of mind knowing that my mom will have access to a quick nourishing meal at all times, at an affordable price. That has a huge value for all of us."
From Anna Maria, the daughter of a client: "My dad is a healthy independent 89 year old but late last year I noticed he looked a little thinner and didn't have much energy. I also noticed his fridge didn't have much in it and when I pressed him about what he was eating for supper, (I knew he always had a good breakfast), I realized he wasn't eating much after that. I was horrified to think that this probably had been going on for some time and I hadn't noticed.
I mentioned Meals on Wheels to him and expected push back but instead he said he thought he should try it!  He too must have realized he needed some help in this regard.  That was around Christmas 2018.
He looks forward to the daily delivery of his meal (he has a limited social network), wondering what will be on the menu today. He has a few favorites (meatballs).  He receives his meal at noon but prefers to have it for his supper so he just reheats it in the microwave. My dad looks and feels so much better since he started with Meals on Wheels!
For me, I know that he is getting a good nutritious meal with variety that he enjoys and that someone is checking on him as well.  It's a great service that allows him to live independently in his own home with dignity.  I have been at his house a few times when the volunteer drops off the meal and they are always friendly and have a smile for my dad. So lovely 😊.
Meals on Wheels has made a big difference to my dad's quality of life and has reduced my anxiety about his living alone. Thank you to all the chefs, staff and volunteers! ❤ "
From a client who orders frozen meals weekly: « Since I have been ordering, my family is less worried because I have at least one good meal a day. »
From Shawn, the son of a client who orders hot meals daily: "My mother enjoys the meals and the interaction with delivery staff at Meal on Wheels. She has sight and mobility challenges and preparing a nutritious meal on her own can be very difficult if not impossible. She wants to remain independent and acknowledges that this service plays a very important role in achieving this result.
As a father of a young family and who cares for an elderly parent, it's comforting to know that if you're late or miss a visit, mom will still have a hot meal.
I encourage anyone in a similar situation to contact Meals On Wheels."
From Joanne, sister of a client with us since 2005: "Meals on Wheels has played a significant role in allowing my brother to live independently. Bob is developmentally disabled and doesn't have the greatest of kitchen skills (prepping and cooking meals). Knowing that he can get nutritious meals that can easily be prepared in the microwave without having to use the stove/oven has been a godsend for us. We can't thank this organization and its volunteers enough as it has made independent living possible. Thanks"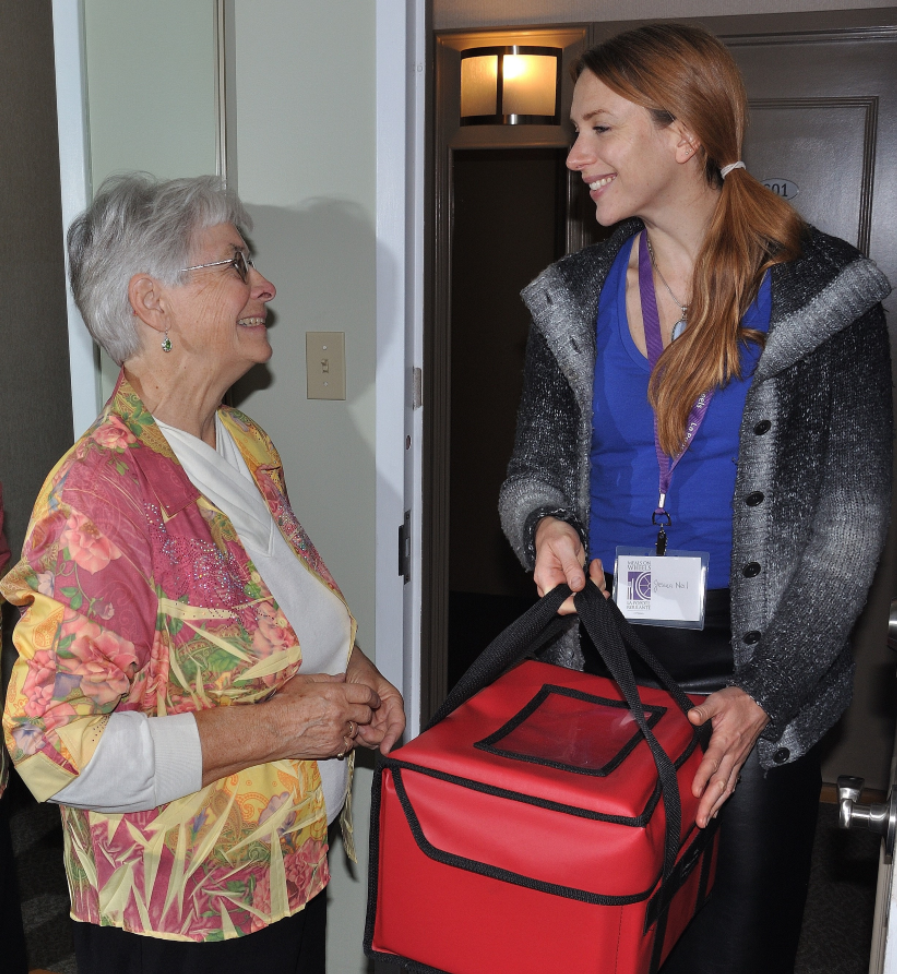 If you think a family member could benefit from receiving Meals on Wheels, do not hesitate to contact us at 613-233-2424. Our client coordinator will be happy to help with the application. You can also fill out the online application form: https://www.mealsonwheels-ottawa.org/clients/how-can-i-apply/client-application-form/ .
If you or a family member receives Meals on Wheels and you would like to be featured on our blog or in our newsletter, please let us know. We love to hear your stories.