Meals on Wheels 2019 Annual General Meeting
July 22, 2019
The Meals on Wheels Annual General Meeting (AGM) of 2019 took place on Wednesday, June 12th, in the afternoon. As per usual, the meeting was held at The Good Companions Seniors' Centre where the agency's office is located. There were approximately 30 people present: a mix of staff, board, and community members. Walter Davidson, appointed President last year, opened the speeches for the meeting.
Unfortunately our Executive Director, Baudouin St-Cyr could not be in attendance. We are looking forward to his return in full health soon. In Bau's absence, Walter read Bau's Executive Director's report for the past fiscal year. He expressed thanks to our funders: the Champlain LHIN, City of Ottawa, The City Union of the King's Daughters and Sons, and other partners and friends that help the agency in many ways. Over the 2018-2019 fiscal year, we were able to deliver 110,845 meals to 1,464 clients with the help of 428 volunteers.
There were presentations on the Annual Report for the organization as well as a summary of the past year for Volunteer Services (Jill Daigle, Manager of Volunteer Services), Client Services (Gabrielle Béland Mainguy, Client Coordinator), French Language Services (Yolande Cremer, Director), and Finances (Sheryl Urie, Treasurer).
Jill updated everyone on the major changes that are happening in the volunteer department and the volunteer recruitment goals for the 2019-2020 year. With almost 430 volunteers contributing more than 23,000 hours of their time over this last year, Meals on Wheels continues to be a leader in meal delivery, client customer service and volunteerism. We could not accomplish this without the dedication and caring of our amazing volunteer team.
Sadly, Jill announced the upcoming departure of Jena Davarajah, Coordinator of Volunteers.
For the past, almost 4 years, I have had the privilege of sharing an office and working with Jena Davarajah in the volunteer services department. It was with mixed feelings that I learned of her departure from Meals on Wheels to continue her career in the not-for-profit world with another organization. Though sad to see her leave our team, I am excited for her to have a new and challenging opportunity. Best of luck Jena in your new position. You will be missed. – Jill Daigle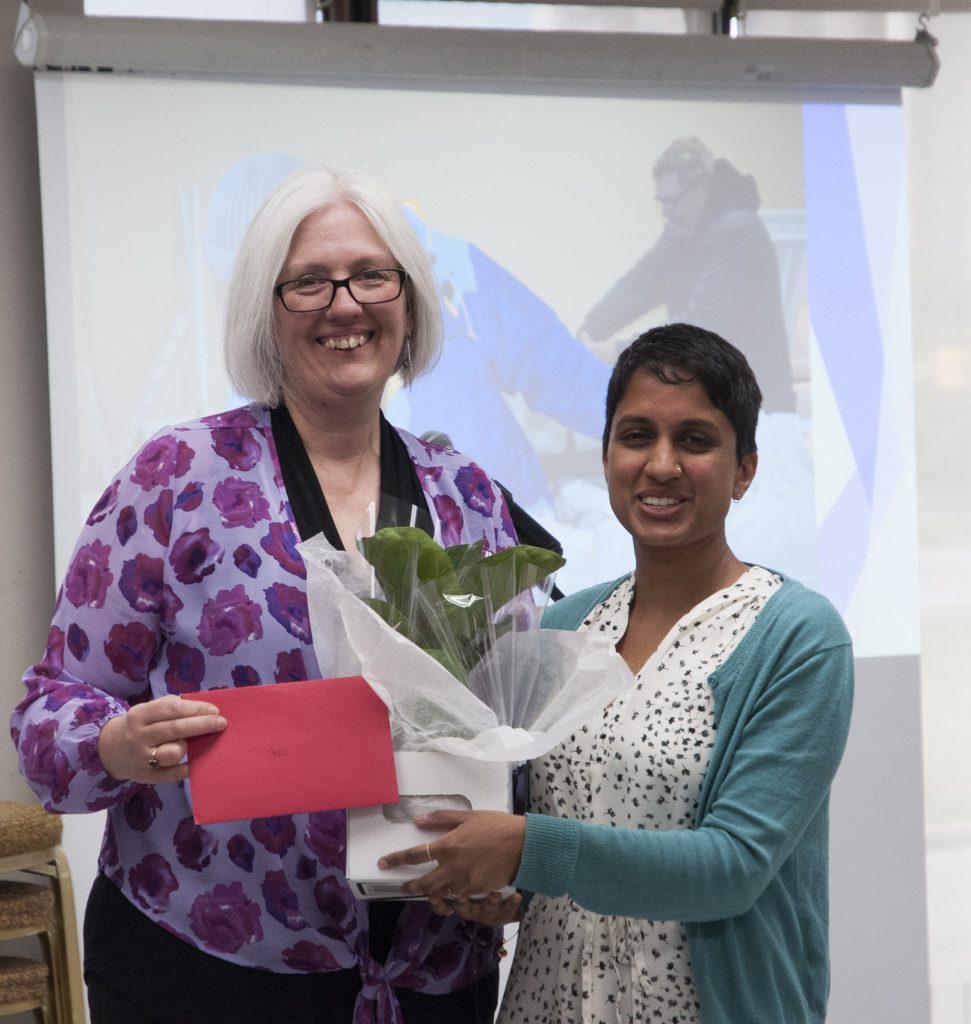 Upon Jena's departure, Jessica Neil, currently on maternity leave from her position as Project Coordinator, will be joining the volunteer Department as Coordinator of Volunteers upon her return in October 2019. Katlyn Lecompte, currently filling the maternity contract for Jessica's position, will act as interim Coordinator of Volunteers until resuming a permanent role of Project Coordinator. Summer student Diane Dieujuste is supporting the team and we are glad to have her back for her second summer with us.
Gabrielle summarized the changes on the client side: from updates to menus from our frozen food providers to the introduction of CommForms, an online portal where clients can order Meals on Wheels services. She talked about our eight kitchens providing meals for clients, Monday through Saturday. She also mentioned quality assurance and temperature testing as well as the switch to Shared Services Organizations (SSO) for support with our database, not forgetting constant referrals from the Going Home Program and CareDove.
Bill Logan led the Slate of Directors for our upcoming 2019/2020 year. This past year, we said goodbye to two board members. Sue Flockton unfortunately passed away last spring after a quick illness. She served a full 10 year term from 2006 to 2016 and then returned in 2017 for a second mandate. For her entire first term, she was head of the Supplier Liaison Committee. We were sorry to say goodbye and we miss her very much. We also said goodbye to Yolande Cremer, Director and former Board President.  Yolande joined the board in 2011 shortly after her retirement from work in community and social services at the City of Ottawa. She became Vice-President after just one year and served as President from 2014-2016. Yolande has worked diligently as a member of the French Language Services Committee, chairing said committee for most of her tenure. As a small token of gratitude, Yolande was presented with a gift card to Mati Ottawa on behalf of Meals on Wheels.
A special award was presented to Jill Daigle, Manager of Volunteer Services, for working 10 years with Meals on Wheels as the Coordinator of Volunteers (2008-2015) and Manager of Volunteer Services (2015-Present). Meals on Wheels is stronger with Jill on the team and we wish her many more successful years with us!
Last year, Meals on Wheels celebrated their 50th anniversary of our founding by the Ottawa City Union of the King's Daughters and Sons (KDS). Although there is change afoot in community health care following last June's provincial election, our program remains ready to continue to fulfill our mandate as a key care provider for seniors and adults with disabilities.