Christmas Luncheon Event December 25th- $1000 annually
Every year on December 25th Meals on Wheels staff members and volunteers join Moe Atallah and his team at the Newport Restaurant to cook, pack and deliver a turkey dinner with all the fixings as well as donated gifts. Approximately 120 seniors and adults with disabilities benefit from this special delivery. Many recipients of this special delivery are clients who regularly receive meals with our program and also need our support on Christmas Day. Other individuals are referred to us just for this event as they may be alone for the holidays and will greatly benefit from a hot delivered meal as well as the kindness and friendly faces of the volunteers who arrive at the door.  There is no cost to the client for this special holiday meal. It's a wonderful and festive day and we'd be happy to share the news that this event is sponsored by your organization or group! Why not have your company help or get a group of friends and family together to support this special delivery?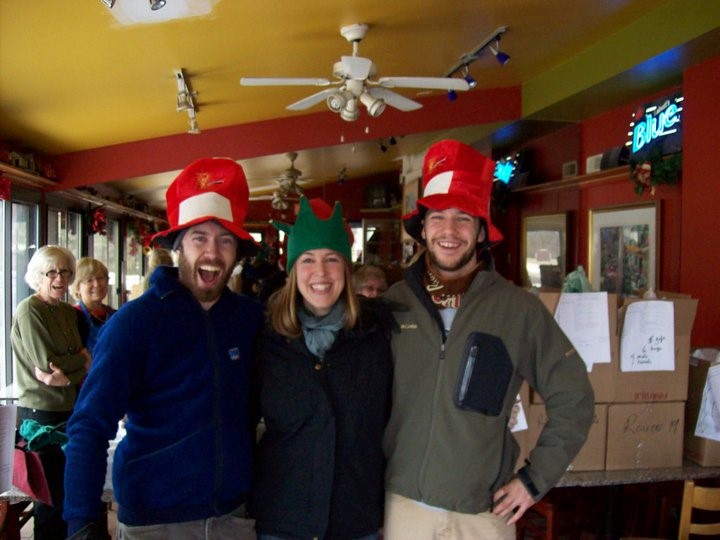 "I feel it is a great privilege to be visited by the volunteers who bring me the mid-day meal every week. 6 days!  ……  I want to especially mention the delivery at Christmas when 5 or 6 young ladies and gentlemen came to my door with an incredibly generous package of goodies.  I suggested that we sing a carol and they chose 'On the Feast of Stephen' I was deeply, deeply touched!  Please extend my thanks to all that come here!" – A Meals on Wheels client.
In addition to knowing that you are helping those in need during the holidays, your company or group will also benefit from the following during the sponsorship year.
Your sponsorship and company logo will be acknowledged on the Meals on Wheels website.
An article will be written for our blog about the event which will identify your company or group as the sponsor.
Your business card or a listing of all sponsors  will  be included in client's gift bag.
You company or group will be recognized in our AGM report.
A representative from your organization will be invited to participate in the event by helping pack the meals at the Newport and/or delivering the Christmas meals to clients in the community.
Did you know?
Meals on Wheels moved to its present location, at 670 Albert Street, in October 2009. From 1987 to 2009, the office was located on Bronson Avenue.